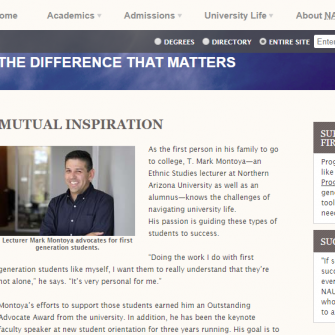 This feature highlighted NAU's commitment to first-generation students, a key brand message. It appeared on the university's homepage in October 2014.
Montoya's message is an important one at NAU: almost 50 percent of the students at the university are the first in their families to go to college. At freshman orientation, where students and their families take time to explore the campus and begin the transition into college life, he serves as living proof that first-generation students can accomplish their dreams.
Instinct for a good story
Meeting multiple deadlines
Tailoring stories for marketing needs
Brand journalism
READ THE STORY
Visit the NAU website to see more of my writing style.