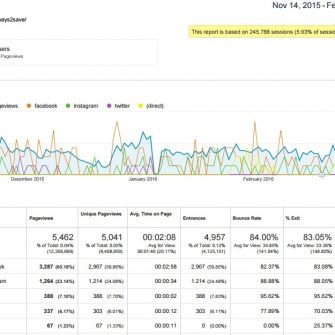 I planned and executed this multi-month social media recruitment campaign. The integrated campaign, which ran from November 2015 to April 2016, was so successful the project stakeholders nearly doubled the original budget.
Summary
Key Takeaway: Facebook ads drove the most traffic to the nau.edu/3ways2save landing page and users from Facebook had the longest average time on page of any of the social media channels, suggesting users referred from Facebook were also more engaged than Instagram and Twitter users. Instagram performed better than Twitter on every metric, but still lagged behind Facebook.
Note: The postcards with the nau.edu/3ways2save friendly URL were, according to the mail house, in the mail on or around Jan. 15 and February 9, 2016. There does not appear to be a spike in direct or Google traffic near those dates. There was a series of spikes in this type of traffic from Jan. 29 to Feb. 5, Feb. 21-22, and March 1.
Managing a large campaign
Providing post-project measurement
Ability to test and make recommendations based on campaign results
Familiarity with social media advertising best practices
READ THE REPORT
Download a PDF copy of the final project report to learn more.